press release

NXPO – Teachers' Council – SEAMEO STEM-ED – Chevron Collaborate with 10 Universities to Drive "STEP" for Enhanced Teacher Training & Up-to-Date Preservice Education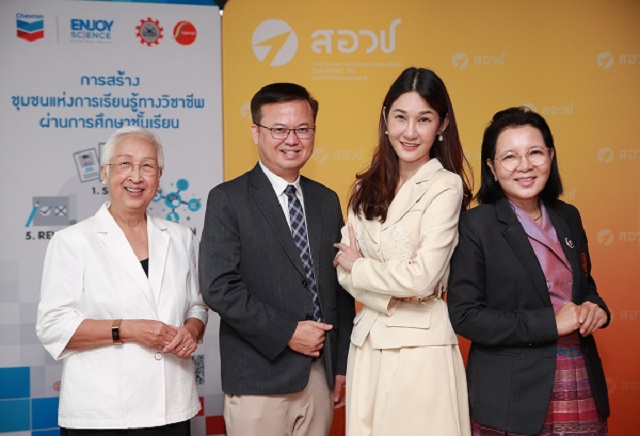 The Office of National Higher Education Science Research and Innovation Policy Council (NXPO), the Teachers'Council of Thailand, the Southeast Asian Ministers of Education Organization Regional Centre for STEM Education (SEAMEO STEM-ED), and Chevron Thailand Exploration and Production Company Limited jointly launched "the Strengthening Teacher Education Program (STEP)".Designed to set up demonstration sites for better production of teachers, STEP has already attracted 10 universities.
Dr. Kitipong Promwong, president of the Office of National Higher Education Science Research and Innovation Policy Council (NXPO), said Thai higher-educational institutes are now urgently adjusting to new global educational trends that place a strong emphasis on critical thinking, problem-solving, creativity, technological literacy, and borderless learning. Such moves resonate with youth's learning value. Today, youth have recognized that learning is not limited to classrooms and that university education is not everything they are looking for. Online short courses become increasingly popular among people. Thai universities therefore now compete not just among themselves but also against overseas institutions. In such situation, NXPO has made it a key mission to urgently provide special higher-education innovations that will enable Thailand's teacher-education programs to produce quality graduates for national strategies on a sustainable basis.
"STEP is a collaboration that is fully in line with NXPO's mission to promote higher education. In STEP, we have worked with the Teachers' Council of Thailand that sets teachers' standards, issue teaching licenses, and certifies teacher-education programs / courses for teacher-producing institutes or upstream players of Thailand's educational sector. SEAMEO STEM-ED Center has also backed STEP with its know-how, while Chevron has provided solid support," Dr. Kitipong continued.
Asst. Prof. Dr. Amonwan Wirathammo, secretary general of the Teachers' Council of Thailand, said STEP would become a model for enhanced undergraduate teacher-education programs, paving way for their graduates to work as truly professional teachers. Through STEP, the University of Pennsylvania – which is a leading teacher-education institute in the United States – will share teaching know-how and techniques with other participants namely lecturers and students. STEP "puts practice before theories" to ensure participants can really teach effectively. Several researches, after all, underline that Thailand need major reforms in teacher education. Professional teachers will need to acquire additional teaching skills through practicum and experiences that place a stronger emphasis on practice than on theoretical sessions.
"We expect STEP to set guidelines for teaching-profession quality such as standards on teacher-education courses and the issuance of teaching licenses. Also, we hope that STEP will holistically enhance the efficiency of all players in teaching circles namely universities, their faculty members, and their students who are downstream players and will likely become professional teachers in the future," she added.
Dr. Pornpun Waitayangkoon, Centre Director of SEAMEO STEM-ED said STEP's key components were 1) Academic content or Core Teaching Practices for teacher aspirants, which are designed to hone the skills of asking the right questions. Both participating lecturers and students will also explore ways to improve teaching/learning, share their methods, courses, platforms, and case studies. The University of Pennsylvania-led Consortium for Core Practices will also provide lecturers in support of this component; and 2. Practices that will be implemented as teams. Well-trained and highly-experienced quality coaches will supervise every team. All coaches have received counseling training so that they can efficiently provide advice. Also, they will visit novice teachers twice a month to guide them further during practicum.
"STEP will be implemented over three years from October 2022 to September 2025. Presently, 10 universities have already confirmed their participation in the program. These universities are 1) Chaiyaphum Rajabhat University; 2)Thaksin University; 3)Buriram Rajabhat University; 4)Nakhon Ratchasima Rajabhat University; 5) Phuket Rajabhat University; 6) Mahasarakham University; 7) Surindra Rajabhat University; 8)Fatoni University; 9)Ubon Ratchathani Rajabhat University; and 10) Bansomdejchaopraya Rajabhat University (BSRU)," she said.
Ms. Pornsuree Konanta, vice president for corporate affairs at Chevron Thailand Exploration and Production Company Limited, said STEP marks a key collaboration between two agencies that set standards and formulate policies on the production /development of Thai educational personnel. Chevron therefore is extremely pleased to have supported STEP in the forms of funding and the provision of specialists, training, research grants, and educational activities under the budget of Bt12 million.
"As part of Chevron Enjoy Science, STEP is another step the project is taking to further strive for deliverable results at policy-making level. It is designed to empower educational personnel particularly those who teaches STEM (Science, Technology, Engineering, and Mathematics), which is undeniably a foundation for national development in the long run. Our support for STEP resonates with Chevron's commitment to 'human development'. Throughout the past 60 years, we have safely provided reliable energy supplies for Thailand while improving Thais' quality of life on a sustainable basis", concluded Pornsuree.

SEAMEO STEM-ED Center is an international organization. Established in Thailand in response to a Cabinet resolution and the Southeast Asian Ministers of Education Council's (SEAMEC) decision, SEAMEO STEM-ED Center has a key missions of serving as R&D hub, promoting STEM Education innovations, and giving recommendations to policymakers of 11 ASEAN countries.