news

Chevron wins Silver Award in Thailand Kaizen Award 2019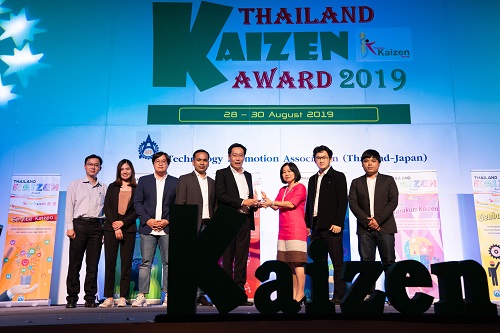 Bangkok – 30 August 2019 – Recently, Chevron Thailand won a Silver Award from Thailand Kaizen Award 2019 under the category of Service Kaizen organized by the Technology Promotion Association (Thailand – Japan) held at the Grand Hall, Bitec Bangna.
The Logistics Decision Support Center won the Silver Award in the Service Kaizen category for their submission of the Crew Boat Optimization project. The project proved to be a successful model of the Kaizen concept of 'Stop, Reduce and Change'. After analyzing the data regarding the use of crew boats, the team found opportunities to reduce diesel consumption as well as save time by optimizing routing and lowering the number of charters. The objective of this project was to utilize crew boats most cost-effectively. In 2018, the team successfully reduced the number of boats from 24 to 17 and decreased fuel consumption by 25% thereby contributing to the cost reduction of 200 million Baht per year.
Pannawat Nilkitsaranont, the Base Business and Process Safety manager, and Suwit Janooduang, the Marine Logistics representative, received the award. In addition, another Chevron-led project, the Information System for Offshore Construction management project qualified for the semi-final round and was formally recognized by the Kaizen judges and the Chevron management team.
This is the first year Chevron Thailand submitted projects to compete in Kaizen Award. More than 364 projects were submitted from 122 top organizations across Thailand. There were 6 categories; Automation Kaizen, Karakuri Kaizen, Project Kaizen, Genba Kaizen, Service Kaizen and Kaizen for Innovation. The two projects were categorized under Service Kaizen which rewards improvement of a system or the ability to provide fast and precise service to the target customers.
The concept of Kaizen shares the same objectives with the company's Performance Improvement Program which encourages personnel in all function of the organization to participate in work process improvement. Most importantly, Kaizen reflects Chevron's vision to consistently strive to innovate and maximize efficiency.