"A Journey Inspired by the King" Year 7 promotes agroforestry to rehabilitate Pa Sak Watershed in Loei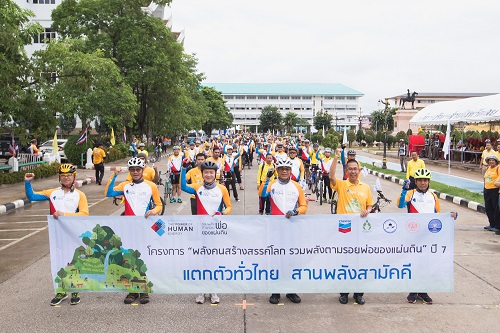 Loei – 1 August 2019 – "The Power of Human Energy: A Journey Inspired by the King" Project kicked off its 7th year with efforts to encourage people to join forces in solving flood and drought problems by organizing a 4-day event to raise awareness in Loei province. Chevron Thailand Exploration and Production, Ltd. partnered with the Institute of Sufficiency Economy, Agri-Nature Foundation, King Mongkut's Institution of Technology Ladkrabang (KMITL) and the campaign's affiliated networks to join the activities and inspire more people to carry on implementing His Majesty King Bhumibol Adulyadej The Great's (King Rama IX) Philosophy and spreading local wisdom for sustainable development.
"Based on the "Reinforce the Power of Unity Nationwide" concept, this year's campaign comprised of three sub-activities, in which over 1,000 members of affiliated networks nationwide participated as well as Chevron employees and the press. The first activity was a 45-kilometer bike caravan starting from the Loei Administrative Office to the Wat Pa Prachasan in Wangsapung district. This caravan aimed to inspire the general public to better understand and adopt the late King's Philosophy. The second activity was a collaborative farming activity at Phu Luang Agri-Nature Center and Sawaeng Dapa's farm in Wang Saphung district. The third activity was a field trip to Sak Nga Ban Hin Sor, Phu Rua district, where volunteers has a chance to observe the villagers' efforts to restore green areas of the forest.
Dr. Wiwat Salyakamthorn, chairman of World Soil Association and advisor to the Agri-Nature Foundation, said, "We have seen concrete success and a solid network expansion in the past six years. In the 7th year, we return to Loei province, the origin of Pa Sak Watershed, which is the place where our first Agri-nature network was established. This network was founded in order to advance the late King's Philosophy which is granted to Thais and people all around the world as a sustainable solution for problems related to soil, water, forestry and human development."
Since most of the Pa Sak Watershed forests are on mountainous terrain, this year's activity emphasizes planting trees for both fruits and lumber, which are the main components of integrated farming, along with cash crops and vegetables on the lower forest floor. These cash crops and vegetables will benefit from the humidity and shade from the big trees. Furthermore, proper agricultural management helps boost the biodiversity in the area. In Loei, herbs are major cash crops that generate income for the villagers who grow such herbs between big trees."
"During the collaborative farming activities in these two areas, participants will build and construct water catchment models, check dams and rice terraces, in addition to planting herbs, seedlings, vetiver grass, and other crops using the '3 Forests, 4 Benefits' principle. They will also grow the very rare local specialty 'Daeng Muang Loei' sticky rice which is native only in Loei." Dr. Wiwat added.
Artit Krichphiphat, business support general manager, Chevron Thailand Exploration and Production, Ltd., said, "The watershed forests in Loei are very important because they are where Pa Sak Watershed originates from. The Pa Sak Watershed is very steep and can easily cause flood or drought. That's why this project was initiated here back in 2013".
"In fact, Thailand is one of the few countries in the world which does not face resource deficiency, as it is quite rich in natural resources. However, the lack of knowledge and proper management could lead to problems in the future. Our project has therefore aimed to educate people about the Late King's Philosophy and encourage the continuous implementation of it. For the past six years we have observed significant progress. However, the project is currently in the final phase and has only 3 years left to be implemented. We have to accelerate the project expansion to energize changes and increase success. Afterwards, we can move forward with food safety and tourism to improve the people's quality of life. With support from all concerned parties, we can make actual change."
"Chevron also teams up with the Agri-Nature Foundation to support the "Pa Sak Watershed Rehabilitation Project" which has been ongoing since 2014 and will be completed in 2020. The project focuses on training and organizing collaborative farming activities. It aims to create a new trend that Thais should follow in order to achieve sustainable development. Chevron will continue to work closely with partners and networks to expand this concept and to make organic farming not just an alternative but the main farming practice for all," said Artit.
Sawaeng Dapa, chairman of the Community Enterprise and owner of Suan Khun Loei farm, reflected on the purpose of the farming model saying, "We want this area to be an example of the '3 Forests, 4 Benefits' principle for other farmers in the Pa Sak watershed area. We also want to foster knowledge exchange about preserving and utilizing produce from the forests in order to reduce deforestation."
Sassana Sonpha, manager of Phu Luang Agri-Nature Center, added that Loei has the advantage of being naturally rich and diverse. We can grow crops from all regions of Thailand. At the same time, some types of aromatic herbs can only be grown in the area. Therefore, Phu Luang Agri-Nature Center supports the villagers to plant herbs and process their produce in order to add value to them and increase their income. Also, a portion of the organic herbs grown are sold to Abhaiphubet.
"Integrated farming is used to increase plant diversity and stop the use of chemicals. The villagers' blood test showed a high level of chemicals including in young children from the consumption of food from the local market. We then launched the food safety campaign to promote food security by supporting villagers to grow their own food source."
"A Journey Inspired by the King" project will continue to sustainably solve the issues of drought and flood in Pa Sak Watershed areas by expanding the campaign's success to other areas nationwide. For those interested in participating in the activities, please visit www.facebook.com/ajourneyinspiredbytheking or
https://www.ajourneyinspiredbytheking.org/th/ for more information.