Chevron and Partners Join Force to Make Suksomboon Village a Self-Sufficient Community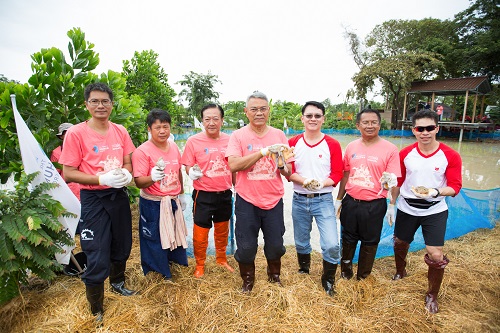 Saraburi – 25 August 2018 – Chevron Thailand Exploration and Production, Ltd., in collaboration with the Institute of Sufficiency Economy, Agri-Nature Foundation, King Mongkut's Institution of Technology Ladkrabang (KMITL) and partners from all sectors of the society, recently organized a volunteer activity to turn Suksomboon Village in Nong Saeng District, Saraburi, into a "role model community for self-sufficiency".
The activity is this year's third under the "Power of Human Energy: A Journey Inspired by the King" project which has continued for six consecutive years. This activity will also empower 15 families in the Suksomboon Village to achieve their goal in becoming a self-sufficient community that inspires people nationwide to follow the late King Bhumibol Adulyadej's sufficiency economy theory.
Dr. Wiwat Salyakamthorn, Deputy Minister of Agriculture and Cooperatives, said, "A self-sufficient community is formed by a group of people of different backgrounds but with one shared mission of creating a community that is self-dependent even in times of crisis. The New Theory, sufficiency economy and local wisdom will be integrated and applied with respect to the geographical condition. Based on the agri-nature concept, such community will become sustainable. This activity also campaigns for reduction of chemical use in farming and encourages villagers to become self-reliant by combining and using local wisdom as well as advanced technology to support sustainable farming."
Suksomboon Village was established by 15 families who have a shared mission of creating an agri-nature farming community. Their key effort is to make their community stronger and more self-sufficient.
"If we do it right according to the late King Bhumibol Adulyadej's advice, Suksomboon Village will soon become a self-sufficient agricultural community. More importantly, it can be the role model village that inspires people nationwide to follow the journey," said Dr. Wiwat.
Artit Krichphiphat, business support general manager, Chevron Thailand Exploration and Production, Ltd., as the private sector lead, said, "In the 6th year of the project, we continue with the "Nationwide Expansion" approach. We hold activities in four areas including Bangkok, Chanthaburi, Saraburi and Nan. With different landscape and geographical conditions in each area, we will in the end create different types of self-sufficient communities, which will become an inspiration for a diverse group of people across the country. This activity, which is the third in our series, will be organized in Pa Sak Watershed, an area characterized by steep-sided slopes, which is very difficult to manage. The area is therefore the river basin that the late King Bhumibol Adulyadej worried much about."
Saraburi is the starting point of the project where the first campaign, encouraging villagers to dig water catchments for flood-drought management, was launched. The campaign was later introduced in other areas nationwide, creating several other model communities and people, such as Ajarn Boonlom Taokaew, an expert in Suan Lom Sri Rin, Saraburi. Ajarn Boonlom has been well known for his success in applying the late King's philosophy and is currently an active committee member of the Agri-Nature Foundation.
Chevron has been supporting this initiative for six consecutive years as the project aligns with its social investment and sustainable development policies. The company aims to support local farmers to develop themselves and become self-reliant. The project has been expanded gradually as it takes at least nine years to see concrete results. So far, the project has been a success with a number of successful communities under this project scattered around the country. Despite such success, Chevron will continue to work closely with partners and learn together on what works and what doesn't.
Initially, the lack of public awareness was one of the issues experienced. In the beginning, only a small group of people was working to materialize the late King's Philosophy. Chevron recognized the problem, stepped in and invited well-known influencers, actors and actresses to participate in its activities, which successfully raised public awareness. The lack of experts and coaches presented another challenge. When the initiative became widely known and more people wanted to join, the project has to build more learning centers, offer more courses, and train more coaches so that the project can meet the rising demand. Another key issue is how to drive this project at the national level so that it becomes widely recognized among people in the academic circle and other sectors. Chevron sought to support the King Mongkut Institute of Technology Ladkrabang to conduct further research confirming that the late King's Philosophy is an effective tool to upgrade people's quality of life, to improve the environment, creating a sustainable future for water and soil, to improve social wellbeing, and to increase economic wealth in local communities
"We have to handle issue by issue," said Artit. "There is no fixed formula. But I believe we are on the right track and we want to expand the results further. Many Chevron volunteers have adopted the late King's Philosophy and tried the method on their own land back home. Retired colleagues brought what they learned from joining this project and shared it with their relatives, encouraging them to adopt this practice."
In this activity, Chevron will implement two sub-activities. The first is to invite volunteers to build a model community at Suksomboon Village, Saraburi. Over 200 Chevron employees have participated in this activity. Joining them are 1,000 members of the alliance networks from across the country and those applying through Facebook.
The second activity is a bike caravan, starting from the "Pa Sak Model" learning center, which was established during the 4th year of the project and located in Huay Krathaek, Lopburi, to Suksomboon Village, covering a 60-kilometre distance. This caravan aimed at inspiring the general public to learn more and adopt the late King's Philosophy. Over 400 cyclists from local areas and other provinces as well as Chevron employees have joined the caravan.
At Suksomboon Village, Ajarn Boonlom, explained the design concept for this 47.5-rai model community. "When we designed it, we listened to the goals and dreams of individual members. We centered our design area around water catchments. With our advice and mentorship, each member started with digging water catchment on their land to store water. We also helped them build shared space, such as the road at the entrance, canals and earth ridges around their fields".
"People joining this activity will learn from KMITL's geosocial space design concept. They will learn tips on how to improve their soil, make dry bio-fertilizer and fertilizer made from dairy byproducts – common items in the area. They will plant crops using the '3 forests 4 benefits' principle, build check dams with bamboos and sacks, and build a self-sustaining ecosystem by growing rice, building field ridges, making frog and fish nursery," he added.
Boy – Pitsanu Nimsakul, an actor and a member of the Suksomboon Village, has been a key person in advocating for this campaign from the start for four full years and has finally decided to start his own project. He said, "From participating in this project for years, I finally bought a plot of land and start to apply the late King's Philosophy in Surin province. However, Surin is quite far and I don't have much time to travel there. When Ajarn Boonlom heard that I wanted to have my own project, he advised me to come here and I accepted immediately because Saraburi is close to Bangkok and I will have a number of neighbors with the same mission in mind. Another advantage of staying in the same community is that you will not be alone. You will always have friends to discuss ideas with and to seek good advice or help from. Our goal here at the Suksomboon Village is to create more green space, to dig up water catchments for use in the dry season, and to become a self-sufficient agricultural community that inspires other and further amplify the results of the late King's Philosophy."
The project will next encourage more people to bring the late King's Philosophy into real action by organizing an event at Srinan National Park in Wiang Sa District, Nan province during October 26-28, 2018. Interested parties can find more information at www.facebook.com/ajourneyinspiredbytheking.