press release

'60 Years of Chevron: Together We Run' event unites Thai power, donates two million baht to Siriraj Foundation for children with genetic disorders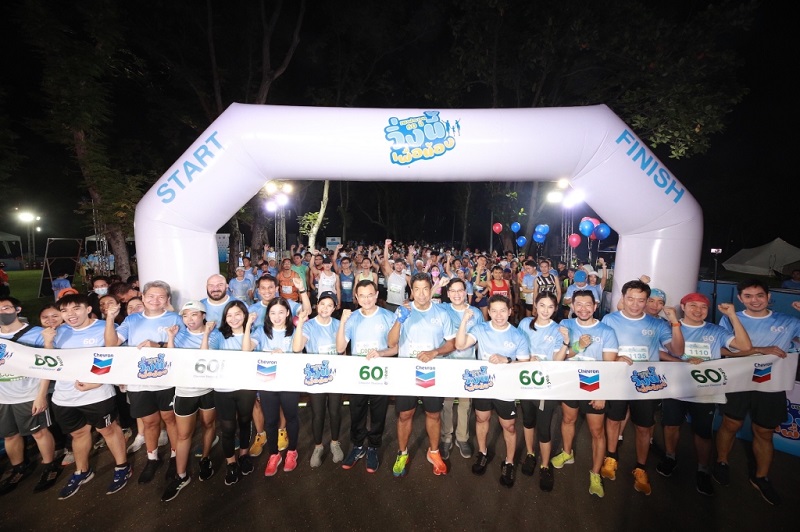 Chevron Thailand Exploration and Production, Ltd. believes in the 'the power of human energy' and takes it further into the 'power of cooperation' to improve the quality of life for Thai people. As part of the commemoration of its 60th anniversary, the company continues to uphold sustainability in the society in every step of the way and has brought together the power of Thai people in a charity walk-run event called '60 Years of Chevron: Together We Run' at Wachirabenchathat Park (also known as Rot Fai Park). The total donation of two million baht from registration without deduction of expenses, plus the company's additional contribution at seven times as much, have been donated to Siriraj Foundation's fund for children with genetic disorders. The event was yet another testament to the company's determination in carrying out its next steps without ever desisting from providing for the public good on every occasion. There were over a thousand participants including Chevron employees and its network of partners, and members of the public, to distinguished guest Governor of Bangkok, Chadchart Sittipunt, who presided over the opening ceremony and joined forces as a runner alongside others.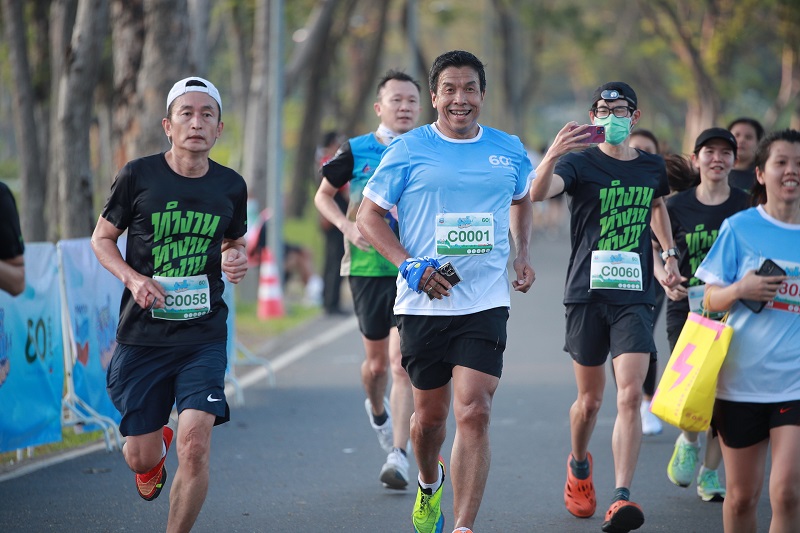 Uniting 'Power of Thai People' into 'Power of Life' for Kids
Chevron recognizes that promoting Thai people's physical and mental health is crucial and fundamental to Thailand's sustained socio-economic development. In addition to helping families with children battling from genetic disorders, Chevron also aims for this event to promote better health for Thai people through exercise, thereby vitalizing society as a whole.
Chatit Huayhongtong, president of Chevron Thailand Exploration and Production, Ltd., said that "Over the course of our 60-year journey, we are proud of our contribution to the country's energy security, which in turn drives economic development with steady growth. As part of our next steps, we will continue to provide cleaner energy safely and reliably, while also developing initiatives for every social cause, one example of which is the present activity. Your support will benefit the treatment of children with genetic disorders, reduce financial strain on their families and play a part in the research and development efforts of physicians to find solutions to cure and prevent genetic illnesses in children in the future."
One of Chevron's significant missions throughout the past six decades has been to conduct business while improving the quality of life for people in various communities. The company works with the public and private sectors to run hundreds of initiatives under the 4E's strategy: Education, Environment and Energy Conservation, Economic Development and Employee Engagement in social development activities whenever an opportunity arises, as another means of driving social contributions and reflecting Chevron's core practice.
Prof. Dr. Apichat Asavamongkolkul, Dean of the Faculty of Medicine Siriraj Hospital, Mahidol University, said that "On behalf of Siriraj Foundation, I would like to thank Chevron for recognizing the significance of the Thai people's health and their ongoing support. Genetic disorders are complex and hereditary. Chevron's support for research and financial assistance for affected families will allow Thailand's medical effort in the intervention and prevention of genetic disorders in children, allowing them to grow up and become the societal power for a better future."
Runs were either fun runs for 3 kilometres or a mini-marathon of 10.5 kilometres. Runners finishing in the top sixty of the mini-marathon were each awarded a 1,000-baht Caltex voucher. Activities in the event are available in several zones. The 'Food Zone' was replete with various food kiosks. The 'Family Zone' was to do with painting fabric bags whose use would reduce plastic waste. The 'Donation Zone' opened for donation of sports equipment in good condition for children in remote provinces. The 'Fun Zone' was bursting with fun games. The event ended with a mini concert from Moderndog. In addition, to reflect the company's commitment to environmental sustainability, running shirts provided at the event were made of recyclable materials, and commemorative medals could be repurposed as coasters.

The '60 Years of Chevron: Together We Run' event is yet another manifestation of the company's core in nurturing the 'power of cooperation' from inside out, with a determined objective to provide a better quality of life and strengthen the Thai society so that its progress into the next decade will be steady and sustainable.