press release

Chevron Enjoy Science and associated partners join forces to push "Smart Agriculture" forward to global industries
Chevron Thailand Exploration and Production Co., Ltd. has brought together its partners from both the public and private sectors—including the STEM Education Centre of the Southeast Asian Ministers of Education Organization (SEAMEO STEM-ED), Mitr Phol Group, and the Ministry of Education—and pledged over 12 million baht to develop an educational model for smart agriculture, as a part of the 'STEM Career Academies' initiative for the advancement of knowledge and skills in STEM. 'Chao Iang Agri-Drone', a drone innovation for agriculture, has also been handed over to Khon Kaen Advanced Agriculture Industry Technology College, an institution under the Vocational Education Commission. The educational model in conjunction with the drone is meant to serve as a pilot model to develop smart farmers, increase their competency, and expand on the knowledge in smart agriculture to elevate the agricultural sector of Thailand sustainably.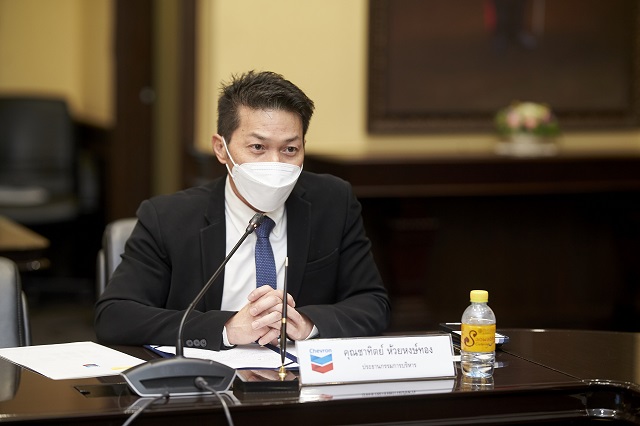 "Chevron is committed to developing and shaping the future of human energy", said Chatit Huayhongtong, president of Chevron Thailand Exploration and Production Co., Ltd. "The company believes that STEM knowledge and skills constitute an educational foundation that drives the country's innovation and economy. Smart agriculture is one of the career groups 'STEM Career Academies' initiative focuses on in an effort to build up on modern knowledge to catch up with the global tides. The undertaking is driven in an integrative manner—that is to say, jointly with our leading agricultural partners and educational institutions like Khon Kaen Advanced Agriculture Industry Technology College, which is a place to build workforce instilled with excellence in industrial agriculture, with an emphasis on the advancement of knowledge in smart agriculture. We aim to take parts in enhancing the holistic model for vocational learning development and pragmatic application of scientific knowledge and skills in technology. The objectives are to increase the competency of vocational students in modern agriculture, and eventually expand on the successful outcomes of the initiative widely, using them as a model for disseminating modern agricultural knowledge all over the country. Consequently, the educational system for smart agriculture would grow robustly enough for competition in the international level."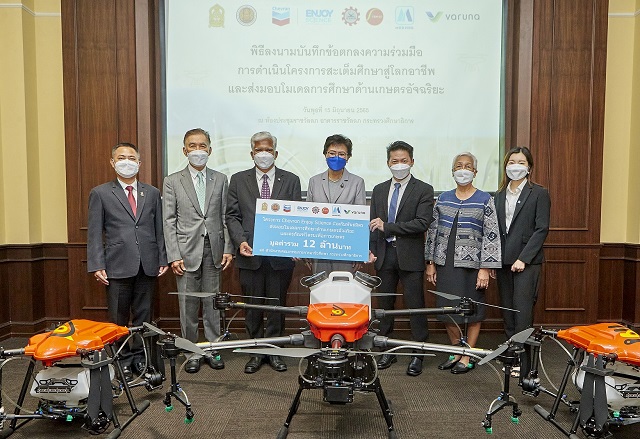 Recently, Chevron has backed the development of a drone innovation for smart agriculture, 'Chao Iang Agri-Drone', the collaboration between Thai Advance Innovation Co., Ltd. and Varuna (Thailand) Co., Ltd., a subsidiary of ARV (a subsidiary of PTT Exploration and Production PCL). Its purpose is as a tool to promote skills in the use of technology to increase productivity and competency for Thai farmers. In addition, students have opportunities to learn modern farming in actual Mitr Phol plantations in the northeastern Thailand, so they will have a better understanding of the various processes in industrial agriculture. How they could make use of modern knowledge to innovate agricultural solutions is mentored by the engineering and agricultural teams from Mitr Phol Group. Eventually, those solutions would help powering the economy sustainably.
"The Ministry of Education is well aware that modern agriculture is the future of the country", said Kalaya Sophonpanich, Deputy Minister of Education. "We therefore support the development of new-generation farmers who can catch on with global and technological changes and will become an important force that drives Thailand's economy. We also focus on promoting the advancement of knowledge in smart agriculture, as well as lifting the standards of agricultural workforce, in accordance with the policy that aims to improve agricultural and technological colleges in preparation for the growth of career groups in the S-Curve industries pertinent to the agricultural sector in the 21st century."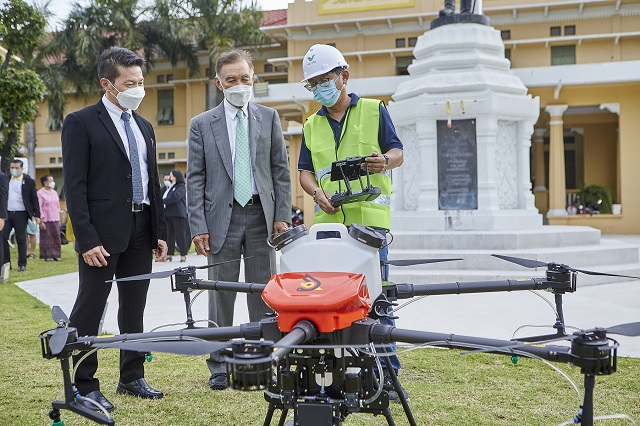 The unity with both public and private sectors in promoting agricultural skills has been another significant milestone of the initiative when it comes to nurturing a future generation of farming developers. The initiative builds up on the knowledge in smart agriculture to formulate a model destined to be implemented nationwide and practical in fieldwork. Passing on that body of knowledge will increase the agricultural potential of the northeastern Thailand. Once having cultivated and developed their advanced skills in smart agriculture, students will return to their respective regions, and expand on the outcomes of the initiative to the national scale.
The 'STEM Career Academies' initiative is a part of 8-year 'Chevron Enjoy Science' project (2015–2023), which SEAMEO STEM-ED has taken part in developing and managing since April 2020. The initiative targets development in four crucial career groups—namely health sciences, IT and computing, education, and smart agriculture—with objectives to promote hard skills and improve the teaching and other personnel of the whole education system, thereby building a firm foundation to move Thailand forward.