news

Chevron wins Platinum Level CSR Excellence Award from the American Chamber of Commerce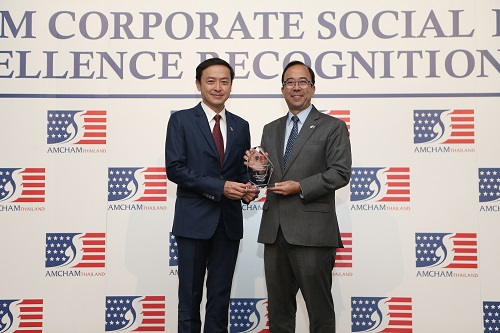 Bangkok – 27 November 2019 – Chevron Thailand Exploration and Production, Ltd. was recently awarded the "Platinum Level" Corporate Social Responsibility Excellence Award from the American Chamber of Commerce (AMCHAM) during the 2019 CSR Excellence award ceremony. Michael Heath, U.S. embassy Chargé d'Affaires, presented the award to Chevron Thailand, represented by Pairoj Kaweeyanun, Chevron Thailand president.
Chevron took home the CSR Excellence Award for the 10th consecutive year, earning the prestigious platinum level, from its long-standing 4E's corporate responsibility framework which consists of Education, Environment and energy conservation, Economic development, and Employee engagement.
The CSR Excellence Recognition award ceremony is organized every year by the AMCHAM to honor members who lead by example in corporate social responsibility practices. This year, Chevron is one of 11 companies honored as recipients of the "Platinum Level" award, in recognition of 10 years of sustained commitment to improving their CSR Excellence.