Chevron celebrates the Royal Coronation with auspicious activities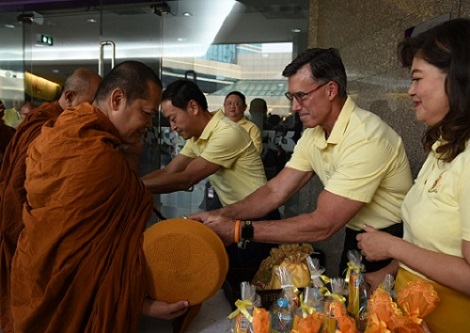 Recently, led by Jeff Lehrmann, Chevron Asia South managing director and Pairoj Kaweeyanun, Chevron Thailand president, Chevron management team and employees have arranged activities celebrating auspicious occasion of the Royal Coronation of His Majesty King Maha Vajiralongkorn Phra Vajiraklaochaoyuhua.
The activities comprised of alms ceremony, merit making, and donation to 10 charity organizations under "Chevron Humankind: Special Edition" program. In addition, the company opened for goods donations as an act of charity and loyalty to His Majesty the King.
Participating in this event were more than 500 Chevron personnel. They took part in giving offerings to monks, and joined religious ceremony. Afterwards, they also had opportunities to donate to 10 charity organizations under "Chevron Humankind : Special Edition" program. The 10 organizations included Siriraj Foundation, Saints Foundation for the Blind in Thailand, Ramathibodi Foundation, Operation Smile Thailand, National Cancer Institute, Songklanagarind Hospital Foundation, The Thai Red Cross Society, The National Council on Social Welfare of Thailand, Phradabos School, Phra Dabos Southern Border Province School.
Altogether, on this day Chevron personnel have contributed to the total donation of 2,322,230 Baht of which the company will triple the amount as well as of other donations occurring in May. Moreover, the company will deliver all donated goods to Teacher Boonchoo home for special children subsequently dedicated as a merit for His Majesty the King.