Chevron Celebrates 6-year Success of "A Journey Inspired by the King" Project on World Soil Day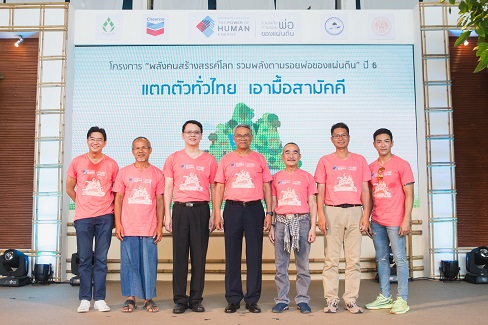 Chevron Thailand Exploration and Production, Ltd. in collaboration with the Institute of Sufficiency Economy, Agri-Nature Foundation and King Mongkut's Institution of Technology Ladkrabang (KMITL) and partners from all sectors, wrapped up the 6th year of "The Power of Human Energy: A Journey Inspired by the King" project with remarkable success in establishing four exemplary communities nationwide. The project is now ready to implement the 3rd phase focusing on connecting 25 watersheds nationwide to encourage policy change, human resource development and environmental restoration. The success was announced on World soil day.
Wiwat Salyakamthorn, deputy minister of Agriculture and Cooperatives, said, "Thailand was honored by the United Nations and the Food and Agriculture Organization to be the host of World Soil Day celebrations on December 5, 2018 in commemoration of the late King Bhumibol Adulyadej and his talents in soil management. The Soil Day celebrations also aimed at raising global awareness on soil management to promote food security. Under the theme "Be the Solution to Soil Pollution", the celebration will focus on addressing soil pollution that seriously affects food security and safety.
"The Power of Human Energy: A Journey Inspired by the King" project has a strong mission to promote the King's Philosophy in the management of soil, water and forests. Throughout the past six years, we have worked hard and made great achievements in encouraging people in the Pa Sak Watershed and other watersheds across Thailand to improve soil quality and adopt bio-farming. We gave educated the people to use bio substances to replace chemical insecticide, make bio-fertilizer and detoxify soil using Effective Microorganism (EM) solution. Such concrete action will lead to sustainability and food security, which correspond well with this year's World Soil Day mission," said Dr. Wiwat.
This year, the project has completed its 2nd phase of implementation, focusing on expanding the concept nationwide. Next, the project will continue with the 3rd phase which will focus on connecting all communities together to drive policy changes for enhanced competitiveness and human resource development. In addition, the project will be further expanded to connect 25 watersheds nationwide.
Artit Krichphiphat, Business Support General Manager, Chevron Thailand Exploration and Production Ltd., said the project corresponded with Chevron's sustainability development policy that focuses on development of people, knowledge and responsibility. In addition, Chevron believes that the King's Philosophy has proven that it works well if people have strong intention and commitment, and, therefore, continued the projects for years.
"We grew this project gradually as we expected it would take nine years to materialize. In the 2013, the first year of the project, when Chevron adopted the sufficiency economy and the New Theory and educated people in the targeted areas on soil-water-forest management, a lot of people did not understand what we were trying to do. We take the Pa Sak watershed, the project initiated by the late King Bhumibol Adulyadej, as our example and implemented similar projects in other communities. Today, we are thrilled that many self-sustained communities are making good progress and more people are interested in this model. The remarkable success will not stop here but will inspre us to work further with our partners, to do more and learn along the way to continuously improve our activity. We are always look for a new bottleneck," said Artit.
The past activities have already been documented and stored in different platforms – video clips, TV and radio spots, and online content with aims to educate interested persons about the New Theory in soil-water-forest management and to inspire others to follow. Such documents and materials have been distributed and broadcasted on the project's website and social media channels, such as https://ajourneyinspiredbytheking.org, Instagram: ajourneyinspiredbytheking, Line@ ID: @inspiredbytheking, and YouTube: inspiredbytheking".
In the 6th year alone, the project has achieved remarkable success with as many as 2,510 people joining activities held in four target areas – Bangkok, Chanthaburi, Saraburi and Nan, each with different geo-social contexts. The main goal is to nurture different "role models" who will inspire others and transfer their knowledge to others.
This year, the first activity began at ThanTham Turakit, Rama 9 Road, held in April and attracted almost 300 participants. Pichate Tonitiwong, a founder of ThanTham Turakit, said, "We intend to make this place the distribution center for our nationwide network. Products sold here are available at the price ranges that are fair to buyers and growers. This center is designed to become the King's Philosophy Learning Center in the heart of Bangkok. We hope to expand this to Chiang Mai and Baan Sri Than in Yasothon in the future."
The second was held in June at Waewsiri Rithiyotee's Ban Suan Isaree Organic Farm and Muang Chan Horse Farm in Chanthaburi. The event attracted over 500 volunteers. The goal is to educate people on bio-farming for safety of both growers and consumers. This event, the project introduced to the local communities the Participatory Guarantee System (PGS) which is a certification system for bio-farming in which farmers participate in the certifying standard with reference to the more complicated and costly International Federation of Organic Agriculture Movements (IFOAM) standard. Thira Wongcharoen, advisor to the Assistant Commerce and Cooperative Minister and the Chanthaburi Farmers' Council director participated in the event.
The third activity was held at Ban Koksamor, Nong Saeng district, Saraburi, in August. The main goal was to create bio-farming communities in which people with shared philosophy joined forces to adopt the King's Philosophy on their farmlands. Boy Phitsanu Nimsakul, a land owner, and Boonlom Taokaew, a member of the Agri-Nature Foundation said that in designing the area, the project considered geo-social conditions and specific requirements of the people in participating communities. In doing so, the project has clearly realized that the King's Philosophy is the true solution because heavy rain two days before the activity was held was completely flooded. However, the area where the activities was held was, however, dry and could accommodate almost 1,000 participants.
At the fourth activity held in Sri Nan National Park on Varissara Chanti (Kan)'s land, Pundit Chimchat, the Sri Nan National Park Director, joined 329 volunteers in digging water catchments in the area, which confirmed that the harmony living between forests and human does exist.
"In the beginning, the villages and the National Park officials did not get along well so I have to bring them together and let them "grow the forest within their hearts". I went to see villagers, told them what we were doing and convinced them to grow rice rather than to borrow more money to buy rice. Today, nine villagers and their families have attended the training and actually implemented their plan. About a hundred of villagers have expressed their interest in attending our training. They realize that if they follow the King's Philosophy, they can become self-sustained. The National Park will also regain forest area," said Pundit.
Interested persons may contact the project at https://ajourneyinspiredbytheking.org, Line@ ID: @inspiredbytheking, Instagram: ajourneyinspiredbytheking , YouTube: inspiredbytheking.