protecting people and
the environment we conduct our business in a socially and environmentally responsible manner through responsible design, development, operations and
asset retirement

Chevron places the highest priority on the health and safety of our workforce and protection of our assets, communities and the environment. We are committed to continually improving our environmental performance and reducing the potential impacts of our operations through the implementation of our Operational Excellence Management System.
Chevron's entire workforce plays an important role in meeting our commitment to do business in environmentally responsible ways. With Chevron's Corporate Environmental Standards and Requirements that apply a consistent level of rigor in managing the environmental aspects of our business, Chevron Thailand has achieved international environment performance. We always measure our environmental performance, which enables us to make informed business decisions around the protection of the environment. Also, we always strive to lead environmental performance in the industry. Throughout our operations in the country, we have never experienced a major environmental incident.
chevron's environmental principles
We have four environmental principles that define how we develop energy in an environmentally responsible manner across the life of our assets:
Include the environment in decision making
We all make decisions that may affect the environment. From our everyday actions to major capital investments, we make better decisions when we consider the environment.
Reduce our environmental footprint
We use our business processes to identify and manage risks to the environment and reduce potential environmental impacts throughout the life of our assets.
Operate responsibly
We apply our Tenets of Operation and improve reliability and process safety to prevent accidental releases.
Steward our sites
We work to decommission, remediate and reclaim operating and legacy sites with the aim of beneficial reuse.
Chevron Thailand operation facilities have received health, environment, and safety awards from governmental agencies in the past years that includes Prime Minister Industry Awards for Safety Management in 2014. We also received "Excellence Award" for Safety, Health, Environment (SHE) Award from Department of Mineral Fuels in 2015 and 2016.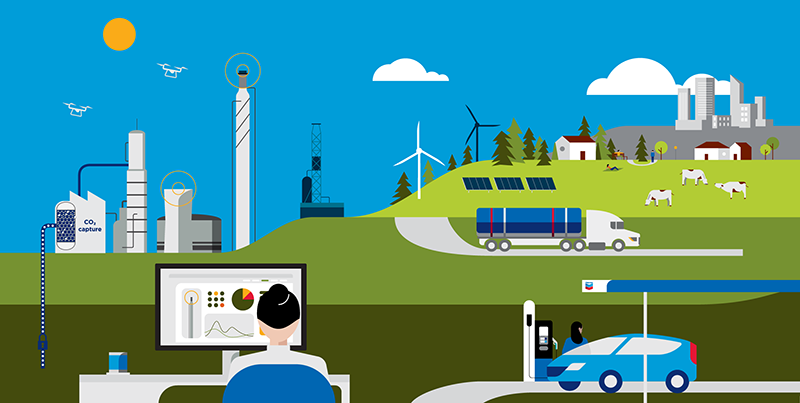 advancing a lower carbon future
We believe the future of energy will be lower carbon, and we intend to be a leader today and in that future. Our strategy is straightforward: Be a leader in efficient and lower carbon production of traditional energy, in high demand today and for years to come. We will accomplish our energy transition goals with our strong governance, risk management, business strategy, and climate policy principles coupled with actions and investments.
lower the carbon intensity of our operations
We're taking actions to reduce the carbon intensity of our operations, with a focus on developing technologies for reducing greenhouse gas release into the atmosphere and other measures.