in the community

partnering for a better future

Chevron is actively involved in community and social development in areas where we operate through a variety of corporate responsibility programs with local partners. We are working to improve lives through the 4 E's – Education, Environment & Energy Conservation, Economic Development, and Employee Engagement.
supporting education
Education is the cornerstone of Chevron's community activities in Thailand. We fully support Thai education through scholarships, science and technology activities, and vocational training.
Chevron's University Partnership Program is the company's global program in conjunction with the leading universities around the world. In Thailand, Chevron and PTT Exploration and Production Plc. supported the M.Sc. Petroleum Geoscience international program at Chulalongkorn University from 2009 to 2018. We also supported academic collaboration on petroleum engineering through scholarships, research grants, short courses and laboratory upgrades. At Chiang Mai University, we supported laboratory improvements and special English courses from 2013 to 2017.
Chevron also offers scholarships for young technicians to attend petroleum trainings at our Settapat Center in Songkhla to develop personnel to drive the Thai petroleum industry. We also provide Exemplary Youth scholarships for needy students. Each year, Chevron supports science and math, and marine ecology camps, and Thai National Children's Day activities.
In 2013, we partnered with path2health foundation to help educate parents on ways to openly and positively communicate with children about sexual health issues.
In 2015, the company launched Thailand Partnership Initiative, known as the Chevron Enjoy Science, a US$35 million, 8-year, public private partnership project, to strengthen Thailand's competitiveness and innovation by improving science, technology, engineering and mathematics or STEM education across the country. Over the course of the project, the initiative has reached over 2.4 million students, trained over 16,000 teachers and school administrators, and benefited 724 schools nationwide.
protecting the environment and conserving energy
Chevron has partnered with key governmental and non-governmental organizations on environment and energy conservation initiatives.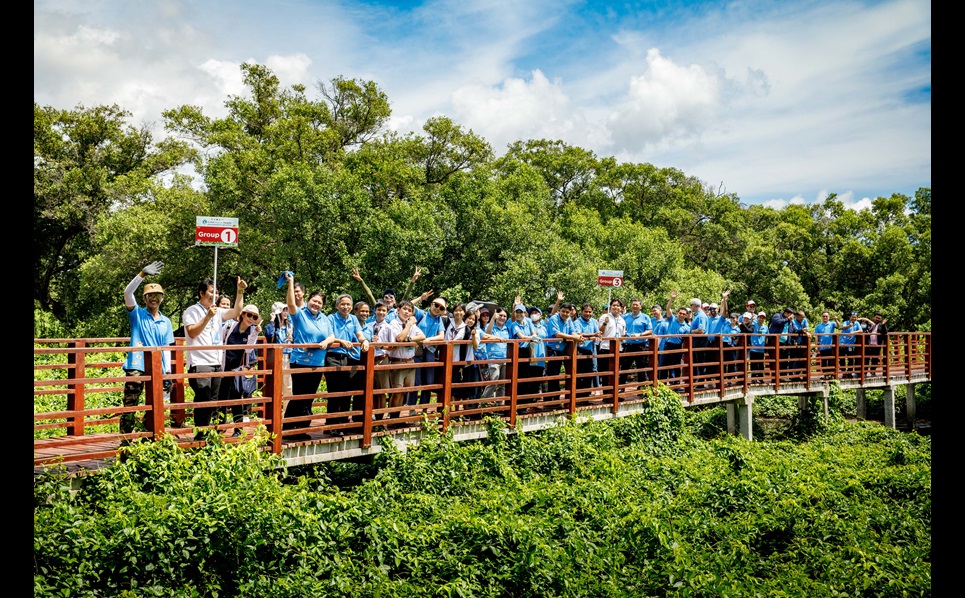 In 2013, Chevron Thailand, together with the Institute of Sufficiency Economy and the Agri-Nature Foundation, launched "The Power of Human Energy: A Journey Inspired by the King" project. The campaign aims to unite the public as a force to learn about the "King's Philosophy" in soil-water-forest management and human resource development from the upstream to downstream of the Pa Sak Watershed through the Sufficiency Economy and the New Theory of Agriculture Principle. Our determination is to make the Pa Sak Watershed become a role model of sustainable water management in order to sustainably prevent floods and droughts as well as to improve the quality of life for Thai farmers.
Chevron is also helping conserve the environment in the Gulf of Thailand through the Rigs-to-Reefs Project in Koh Pha-Ngan, Surat Thani, the Artificial Coral Reef for Small Marine Species Habitat Project, the Mooring Buoys Anchors Project at Koh Tao Island and the Mangrove Forest Rehabilitation Project.
empowering economic development
Help to build stronger, more self-reliant communities, we initiated a number of livelihood and economic projects.
Since 2011, Chevron is supporting the Chevron Fund4Life Entrepreneurial Support for Woman Breadwinners in funding for Raks Thai Foundation to provide occupational knowledge, career training and financial support for women breadwinners affected by political unrest in Pattani, Yala and Narathiwat provinces, in order to support their livelihood and small business enterprises.
From 2011, Chevron partnered with the Population and Community Development Association (PDA) to benefit over 120,000 people in 50 villages in Nakhon Si Thammarat through scholarships, Village Development Banks, livelihood improvement, and environmental and health promotion.
promoting employee engagement
Chevron provides opportunities for personnel and their families to help improve community well being by contributing their time, energy and talent. Every year, hundreds of Chevron volunteers participated in activities throughout Thailand, such as renovating schools, building check dams and irrigation canals, donating school supplies and building learning centers. Personnel also joined activities at mosques during Ramadan and the Lord Buddha's robe procession on Makha Bucha Day.
Chevron Humankind offers a one-to-one company match to 10 eligible nonprofits in Thailand. Chevron employees have contributed more than $596,700 (as of December 2021), an amount that was matched by the company.